Commercial Window Cleaning Perth
The only WA commercial window cleaning company to have invested in the latest environmentally-friendly 'Reach and Wash' System , using Thermo Pure Advanced Technology, which is now widely recognised in the UK as the future in window cleaning.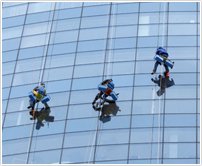 This new 'Reach and Wash' pure water ionic system uses no chemicals or other solutions, just pure hot water. It dries quickly, leaving external windows, screens and frames sparkling clean and spot-free, and is kind to the environment at the same time.
Office Window Cleaning in Perth
Using our truck-mounted machine, we can safely reach even the most difficult spots without ladders or other access equipment, making sure your premises get a top-to-bottom clean.
Wherever you are, let us put the sparkle back into your windows.
Large offices, schools& retail shops
Sporting facilities, medical centres, child care centres and churches
Commercial buildings and apartments
Single, multi and triple-storey homes
Pool fences, louvers, colonial windows
Cobweb removal, fly screen and frame cleaning
Contact us you require any commercial window cleaning in Perth

SERVICES