Many homeowners invest a lot of time, money and effort into making their driveway look good as it is often the first home feature visitors will see when they enter your property. However, years of wear and tear can often leave your driveway looking less than impressive. Stains such as tyre marks, car oil spills, dirt and grime build-up, as well as general abrasion from frequent foot traffic can all contribute to a rundown driveway.
Luckily, high pressure cleaning is one of the most effective ways to clean your driveway and return it to its original state. It is not only environmentally-friendly, but stains can be removed in a matter of minutes while also clearing your driveway of any harmful bacteria and fungus. Below are just a few of the benefits of high pressure cleaning driveways.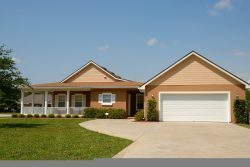 Time-Effectiveness
Spending hours scrubbing your driveway is not very time-effective when you lead a busy lifestyle. The task is often labour intensive and tedious, not to mention you may not even remove the stains that have worn into the pavement. The amount of time and effort saved by hiring a professional to do high pressure cleaning means that you can dedicate your hours to more important things like spending time with your family and friends.
Curb Appeal
If you are thinking of selling your home, "curb appeal" becomes very important. The last thing you want is a stained and worn down driveway turning off your potential buyers and decreasing the value of your property. High pressure cleaning will restore your driveway to its original pristine condition and you will be able to showcase your property to buyers without worry.
Cost-Effectiveness
Maintaining your driveway regularly means less costs in the future. By prolonging the lifespan of your driveway with high pressure cleaning, you will be alerted to any cracks or damage on your driveway that need immediate attention. In the long run, this becomes highly cost-effective as major repairs can be avoided with some simple preventative maintenance.
Environmentally-Friendly
A major advantage of high pressure cleaning is its minimal environmental impact due to no chemicals being used. The water pressure is enough to clear the dirt, grime and stains off your driveway without releasing harmful chemicals into the drains. This makes high pressure cleaning a very attractive option for those wishing to be more eco-conscious.
Safety is Key
The build-up of mould, algae, oil and dust on a driveway can reduce friction on the surface, making it hazardous for your family and visitors. High pressure cleaning ensures these depositions are removed and that your driveway remains safe for all to use.
High pressure cleaning isn't exclusive to driveways. It is an effective cleaning method for large areas including patios, BBQ areas and garages. FCT Cleaning has over 20 years of experience with high pressure cleaning and other cleaning services at very affordable prices. To chat with a friendly member of our team or for an obligation-free quote, give FCT Cleaning a call today on (08) 9204 3333.
Related Tag: Driveway Cleaning Perth