Deciding to have a pool in the backyard often begins with the most noble of intentions, including valuable family time, teaching the kids how to swim and relaxing summers spent by the pool side. However, many pool owners quickly find pool maintenance to be quite the opposite of relaxing and the wearisome task of cleaning or resurfacing the pool often gets pushed to the backburner, which means that notion of a perfect summer by the pool becomes pointless when you realise the pool is full of algae and sludge.
Being able to enjoy your pool is just one benefit of regular pool maintenance. Reducing the risk of hazards, prolonging the life span of your pool and saving on costly repairs are also perks of have your pool frequently inspected. The good news is cleaning and maintaining your pool doesn't have to be difficult, particularly if you enlist the help of a professional company such as FCT Cleaning. Below are just some of the benefits of regular pool maintenance.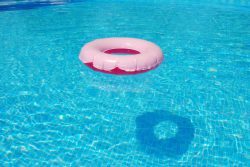 Saves Money
Regular inspections of your pool will ensure potential issues are spotted before they escalate into further damage, which can mean much more costly repairs in the long run. Having your pool inspected means minor repairs can be carried out immediately.
Keeps your Family Safe
A dirty pool is never fun to swim in, but the health risks involved poses a much bigger problem for you and your loved ones. If your pool has the incorrect pH levels or the amount of chemicals is not properly balanced, this can cause harm to you and your family. Frequently checking these levels in your pool is paramount in keeping it safe for everyone to enjoy.
Keeps your Pool Looking Good
There is nothing more off-putting than a pool that is covered in mould, grime and fungus, or one that has debris, insects and leaves scattered all around the surface. Regular maintenance of your pool means that it is kept in top, crystal clear condition and will never be an eyesore to you or your house guests. This becomes even more important when it comes time to sell your property.
Eliminates Worry
Perhaps the most important part of regular pool maintenance is the peace of mind you get from knowing all components and parts are running smoothly and the pool is always safe for you and your family to use at any time. This is where a professional cleaning company can really help as they will do all the dirty work for you. All you will need to worry about is finding the time to take a dip.
At the end of the day, regular inspection of your pool means you will be alerted to any potential problems as soon as possible. If you do spot any damage, it becomes even more important to consult with a professional expert so the issue can be addressed immediately. Restoring or resurfacing your pool means less likelihood of injury to your family from rough surfaces, prevention of further damage and an improved appearance.
At FCT Cleaning, we provide high quality pool resurfacing and restoration services at competitive prices. Whether you wish to resurface, repaint or replaster your pool, our experts have the right tools and expertise to complete the job efficiently. For an estimate, give us a call today on (08) 9204 3333.