October 10th, 2017
Trying to keep your house clean and tidy, but concerned about the impact cleaning chemicals can have on your family? Traditional cleaning products often contain harmful chemicals that can have potentially toxic effects on both your home and health. Research has also shown that Australians are becoming more conscious of how cleaning chemicals can have a negative impact on the environment. So how do you keep your house clean? Don't panic! The friendly team at FCT Cleaning have the answer to keeping your home clean and shiny, both inside and outside.
One of the most concerning environmental impacts from traditional cleaning chemicals is the ability of these products to contaminate local water supply. It is extremely easy for household cleaning chemicals to be washed down the drain, where they can lead to detrimental effects on both the environment and the local population. By using eco-friendly cleaning products that are biodegradable, these products readily dissolve and break down in water before they can have a chance to cause a negative impact on the environment.
The kitchen is home to what is widely regarded as the most difficult object to clean in your home: the oven. In order to clean the oven effectively, strong cleaning chemicals are often used in conjunction with rigorous scrubbing to soften and remove baked on grease and grime. Scrub for hours no more, as FCT Cleaning has an eco-friendly solution to your oven cleaning woes; Eco Live!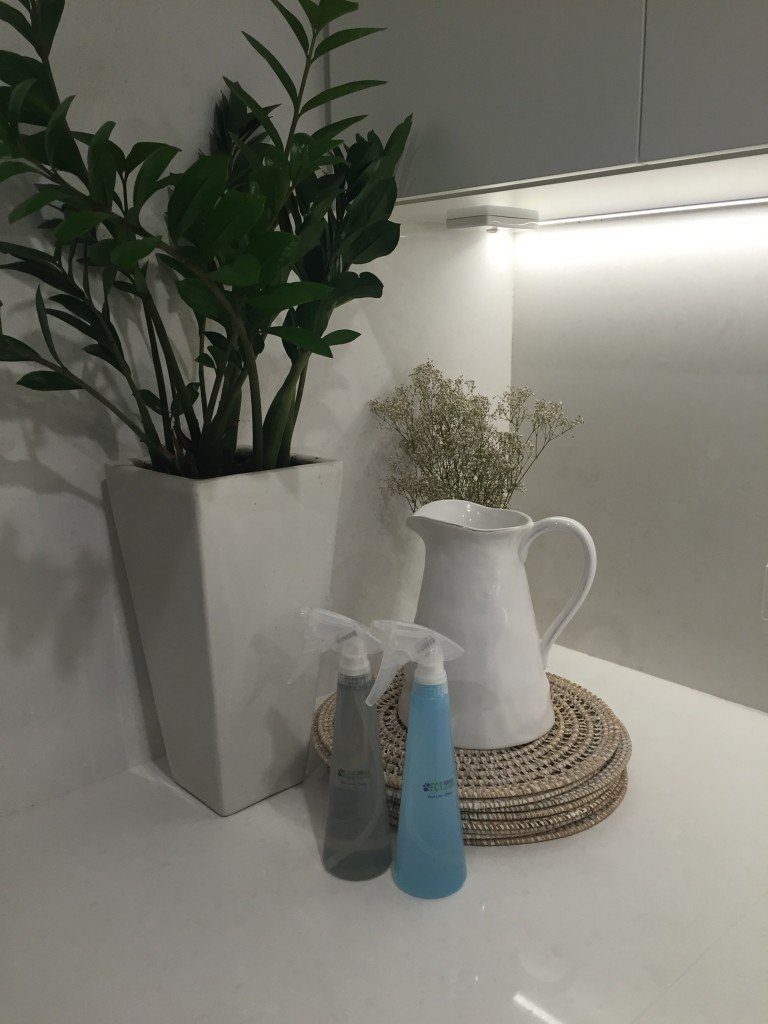 Eco Live is an amazing eco-friendly cleaning product that will effectively clean even the toughest surfaces inside your home without harmful chemicals or the need for extensive scrubbing. Eco Live is free from:
Petroleum products
Parabens
Sulphates
Strong acids or bases
Artificial fragrances and colours
Bleach
Noxious chemical smells
Ethanol
Eco Live is also non-toxic and completely pet safe. Instead of using harmful and potentially toxic ingredients to clean, Eco Live emulsifies oil and grease easily and effectively using a natural and hypo-allergenic formulation. Transform your home today with the best eco-friendly cleaning product on the market, Eco Live from FCT Cleaning!
Now the inside of your house is taken care of, what about the outside? Do you have a grimy patio or driveway, or a barbeque that has seen better days? FCT cleaning have an eco-friendly cleaning solution for you – pressure washing!
High pressure washing involves the use of powerful hoses that blast water on to an outdoor surface at an extremely high force. The high force of the hose, in conjunction with the natural polarizing abilities of water as a solvent, creates an extremely effective cleaning team without the need for harmful cleaning chemicals. Pressure washing can be used on almost any outdoor surface with fantastic results, including driveways, patios, and barbeques, as well as brick walls. Make your dirty house shine like new again, and be the envy of all your neighbours with effective, eco-friendly and affordable pressure washing from FCT Cleaning!
September 16th, 2017
FCT's Nick McLennan and Andries de Meyer are celebrating an amazing victory after winning their rugby grand final! Nick and Andries play for the Wests Scarborough Rugby Club who defeated the Associates Rugby Club 27-15 in what has been described by the Stirling Times as an "entertaining" game, making this a back-to-back Premiership for the Wests!
This is an amazing win for the Wests but there is more to celebrate because Andries also received the Patrons Trophy at the Awards Night!
In the past, Wests had won four grand finals in a row! After this winning streak it took a few years of hard work and dedicated players to reach that top spot in 2016, and now again this year.
The Wests hold a special spot in the heart of FCT as it is our founder, Tim Harris's old club. FCT is a keen supporter of the club after having many players work here over the years.
FCT would like to congratulate the Wests on their incredible win and are incredibly proud of Nick and Andries. We'd also like to extend our congratulations to Andries for taking home the Patrons Trophy.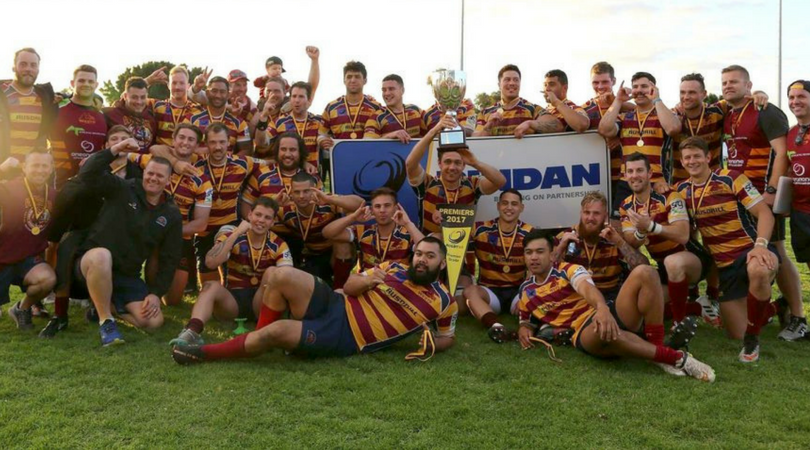 September 10th, 2017
Spring is finally here! Cold, grey, miserable winter skies have been replaced with beautiful sunshine and warm weather. That glorious sunlight however brings to light how dirty and neglected our homes and outdoor surfaces have become. Don't panic! Restoring your property to its former glory is easy with pressure washing from FCT Cleaning. FCT Cleaning are a locally owned and operated business that specialise in pressure washing that is effective, affordable and gentle on all surfaces. Located in a remote area? No need to worry. We are a fully mobile company that are happy to travel anywhere in the state to provide pressure washing services for your home or office building.
So why is Spring the best time of year for pressure washing?
One of the main factors to consider is the weather. Winter is too cold and comes with a risk of ice and frost build up which can cause further damage to your home or property. Autumn can also be problematic, as falling leaves can just fall right back onto the freshly washed surface. With all of this in mind, Spring is therefore the perfect time of year to consider pressure washing your grimy driveway, home or office building, as we are heading into warmer weather that is perfect for drying freshly washed, wet surfaces. Banish dirt and grime from your property this Spring with pressure washing services that are gentle yet effective enough to really make your surfaces shine.
Dirty windows, cobwebs and grime build up on the outside of an office building can make your business look unprofessional. An annual pressure wash this Spring will leave your building sparkling in the sunlight and will also ensure that your business attracts the right kind of attention from potential clients.
Is your outdoor furniture and fittings showing signs of neglect?
Don't panic! A pressure clean this Spring is the answer! Get your home garden party ready and all of your outdoor surfaces and equipment squeaky clean by calling the team at FCT cleaning today. Pressure washing is also the most effective way to clean outdoor surfaces and furniture without the damaging effects of toxic cleaning chemicals, as the high pressure jets of water blast away dirt and grime without needing chemicals to break down the residue. Impress even your most critical guests at your next outdoor event with furniture and outdoor surfaces so clean even your mother in law will approve!
So what are you waiting for? Call FCT Cleaning services today for fast and reliable pressure cleaning that will travel to you all over the state. With our friendly and experienced team, your property is in safe hands, and they will ensure that the correct equipment and techniques are used for the job each and every time. We are so confident that you'll love our services that we offer a money back guarantee, so you can rest assured that your surfaces will sparkle to their full potential and your money is well spent.
August 18th, 2017
Some recent pictures of removal of Bore Stains on a Sign at Mertome Village – Bayswater.
If you would like us to help you out with any stubborn bore stains, please do not hesitate to contact the office on (08) 9204 3333.
August 14th, 2017
We recently undertook surface restoration on a Rooftop Pool in the City.
It is a perfect time of year to get your pool resurfaced in preparation for summer.
No job is too big or too small, give us a call if you would like to find out more on (08) 9204 3333.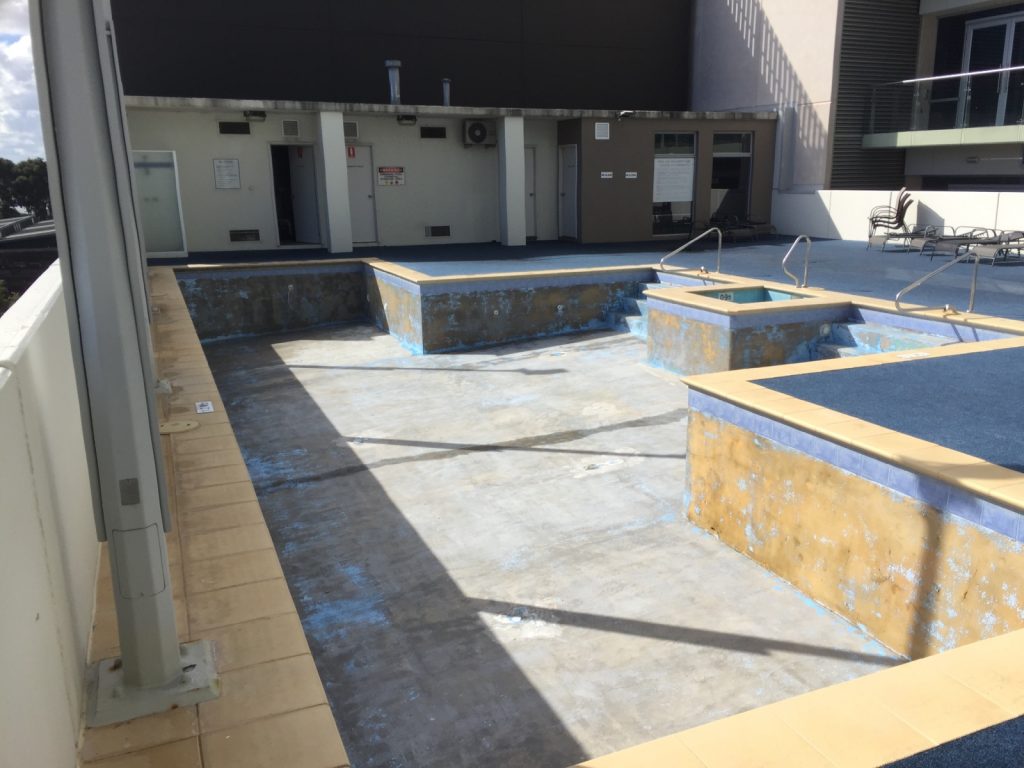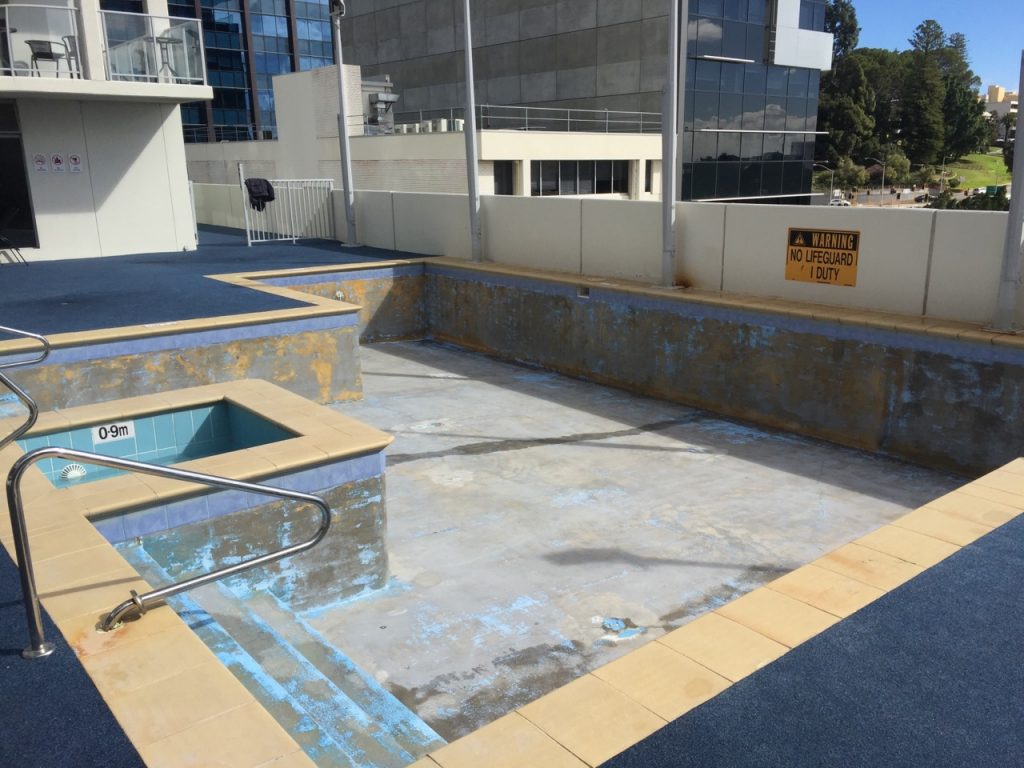 August 2nd, 2017
Cleaning has started on the Perth Convention & Exhibition Centre, FCT has been contracted to undertake cleaning to the external of the building on a monthly basis.
Below is Wayne Laker, Senior Technician in the Boom Lift starting off the cleaning.
If you have any high level pressure cleaning or building wash downs you would like completed please do not hesitate to contact the office on (08) 9204 3333.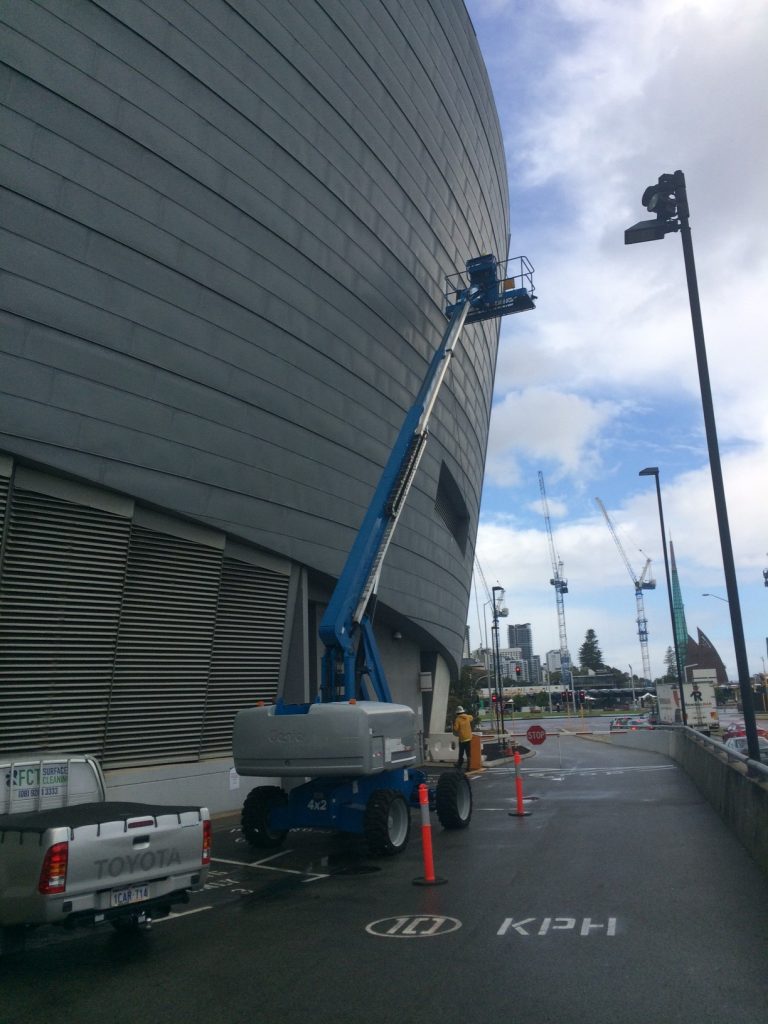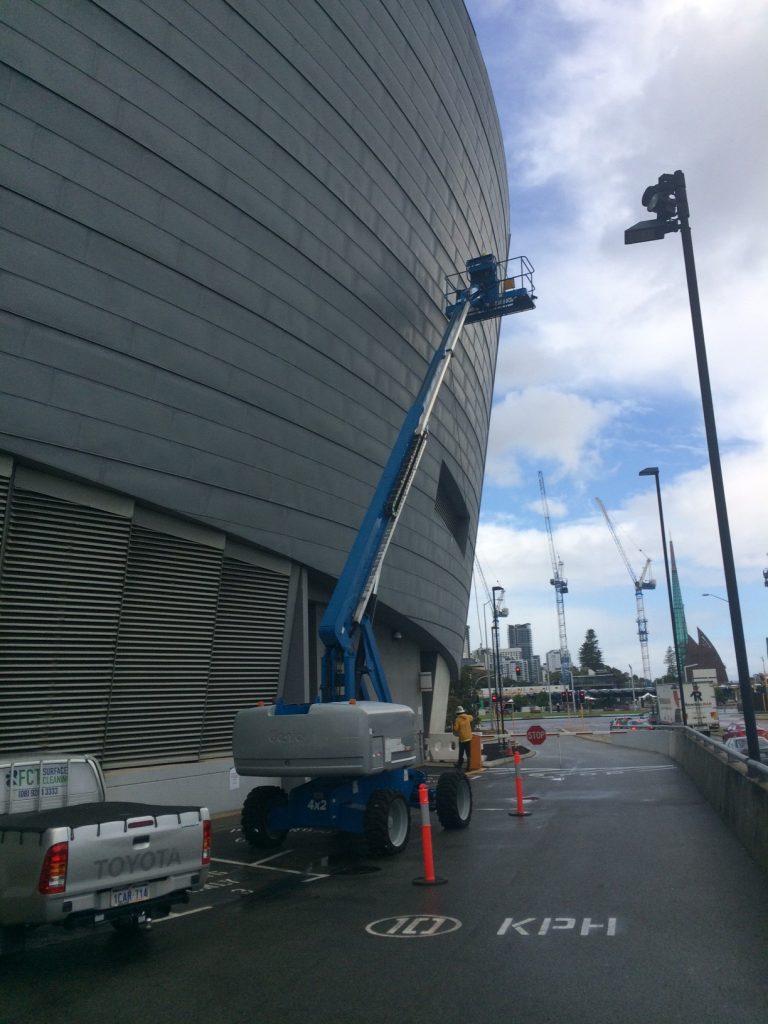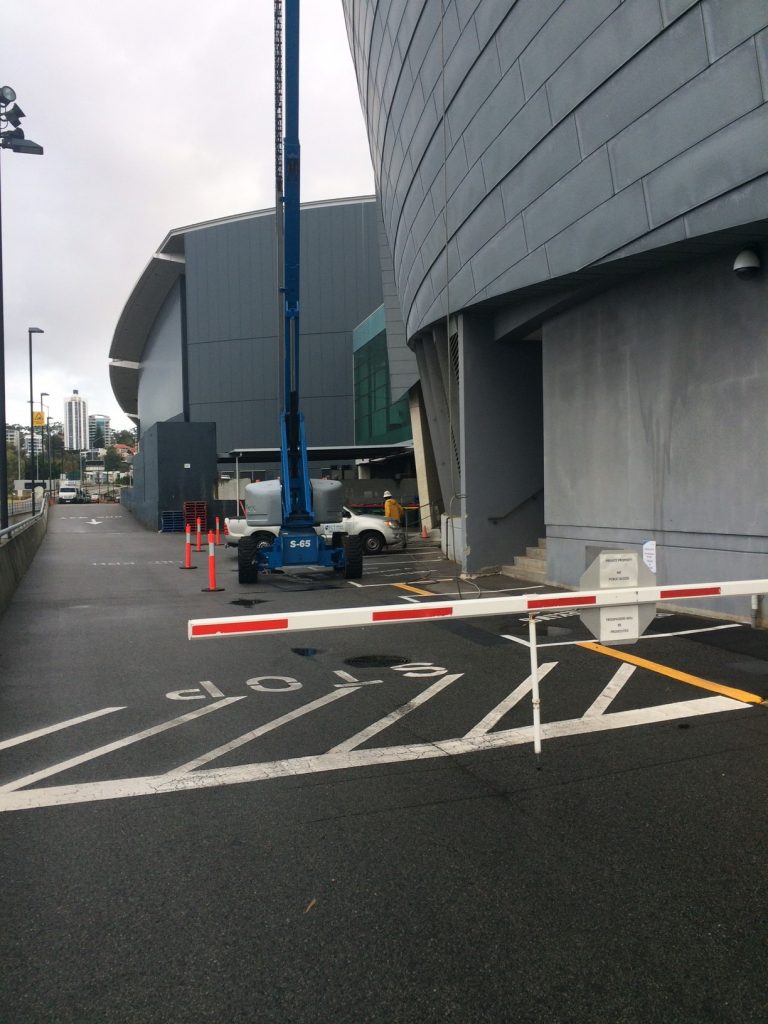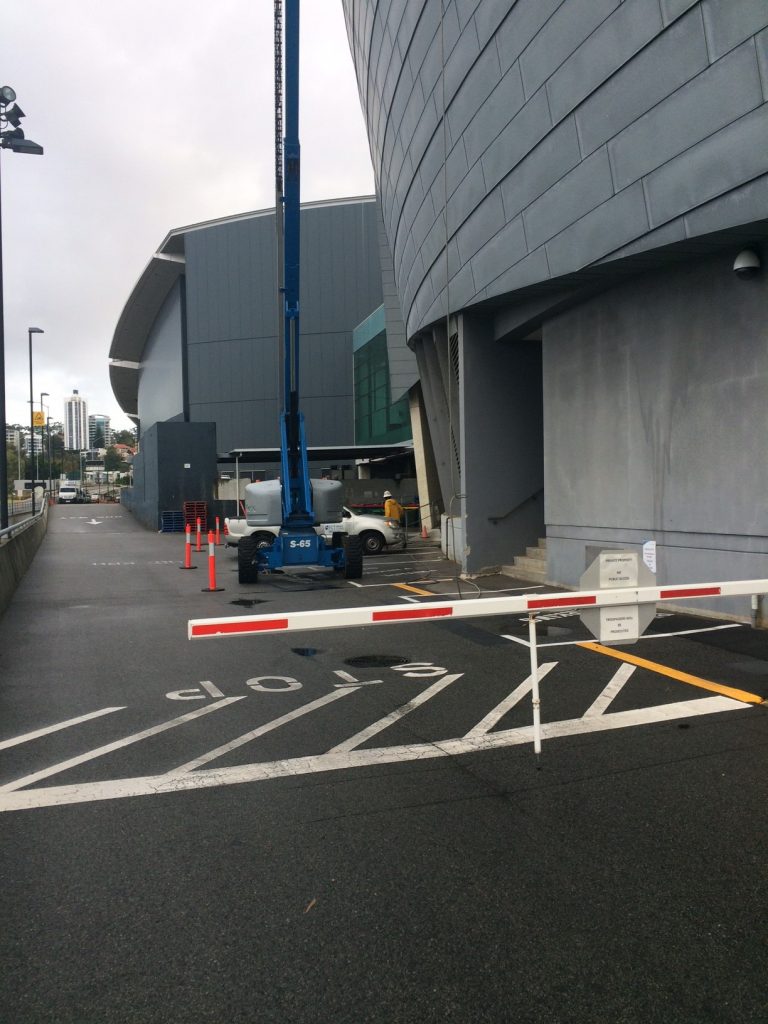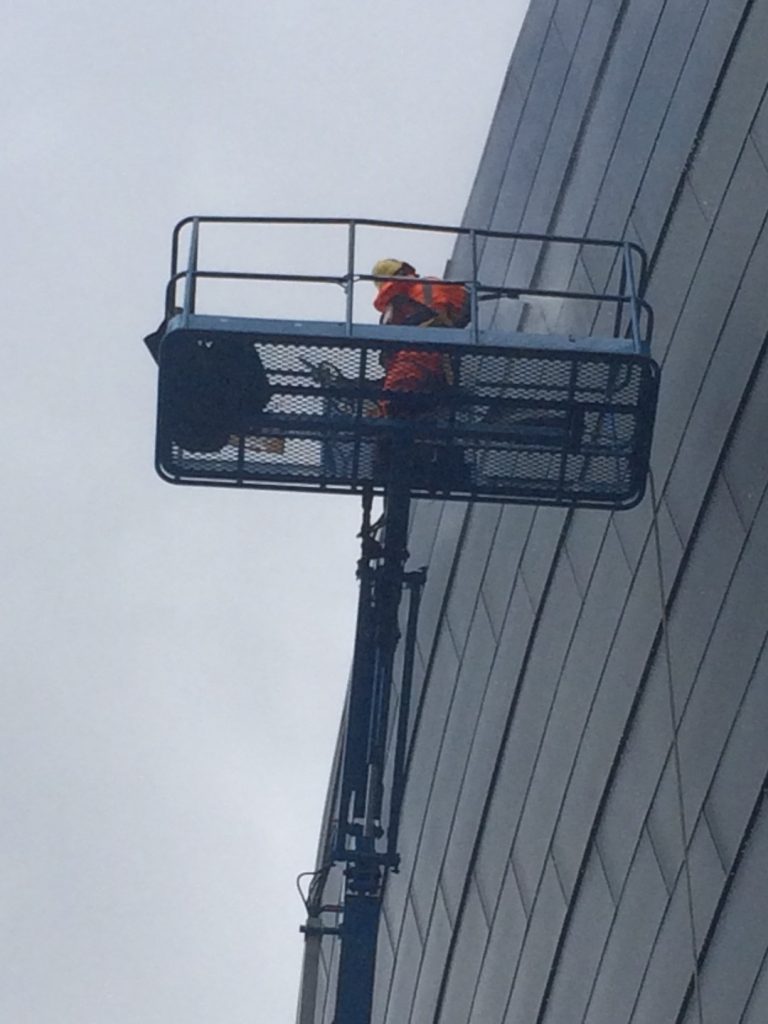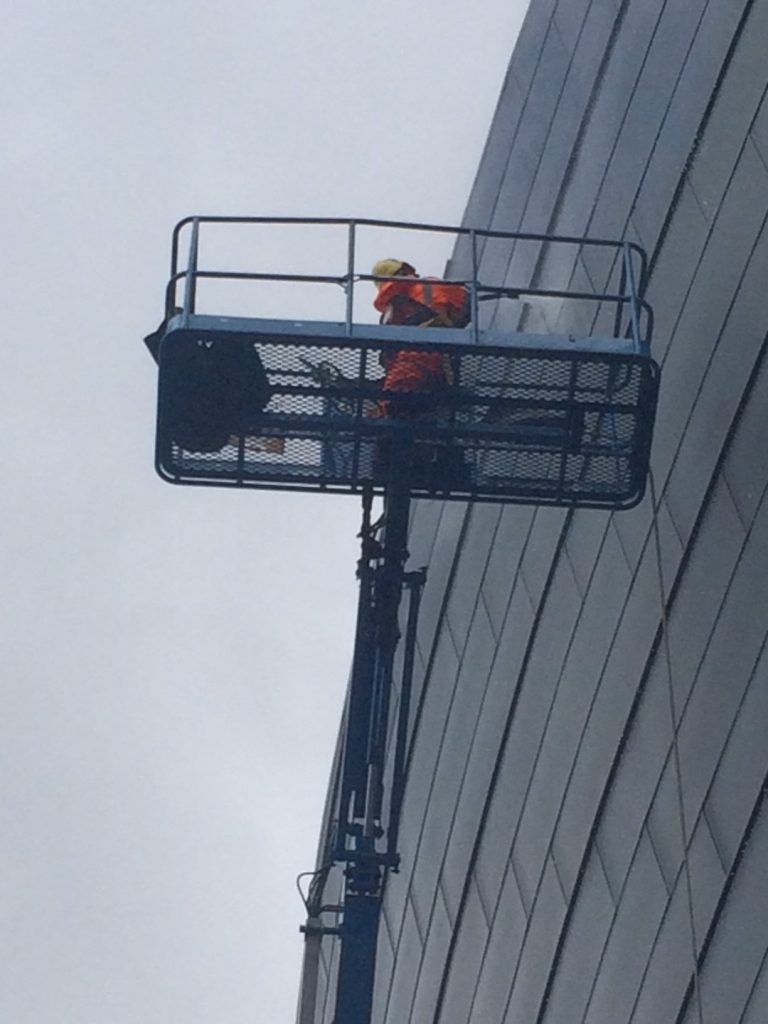 June 28th, 2017
Paint removal can be difficult to conduct without causing damage to the surface underneath.
With 25 years experience in the field, FCT know how to get the job done.
Using specialised ultra high pressure water blasting machinery and equipment FCT can clean pavements, roads, pathways etc.
If you have any paint you need removed or see any spillages on the road, call us in the office and we would be happy to assist (08) 9204 3333.

BEFORE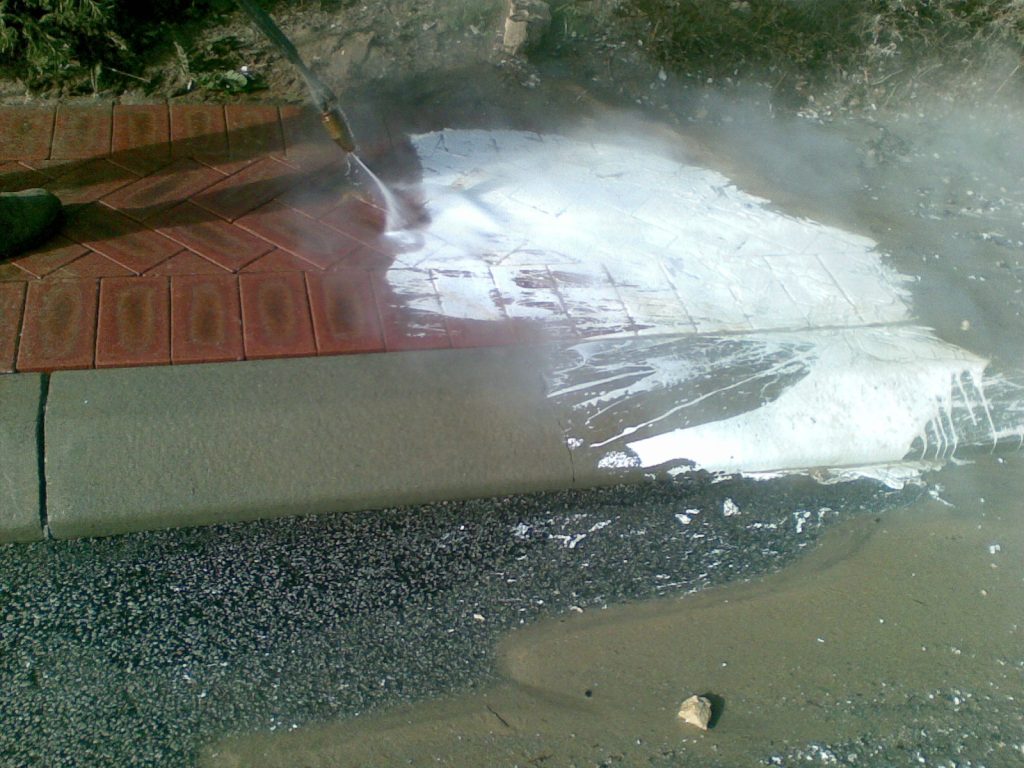 DURING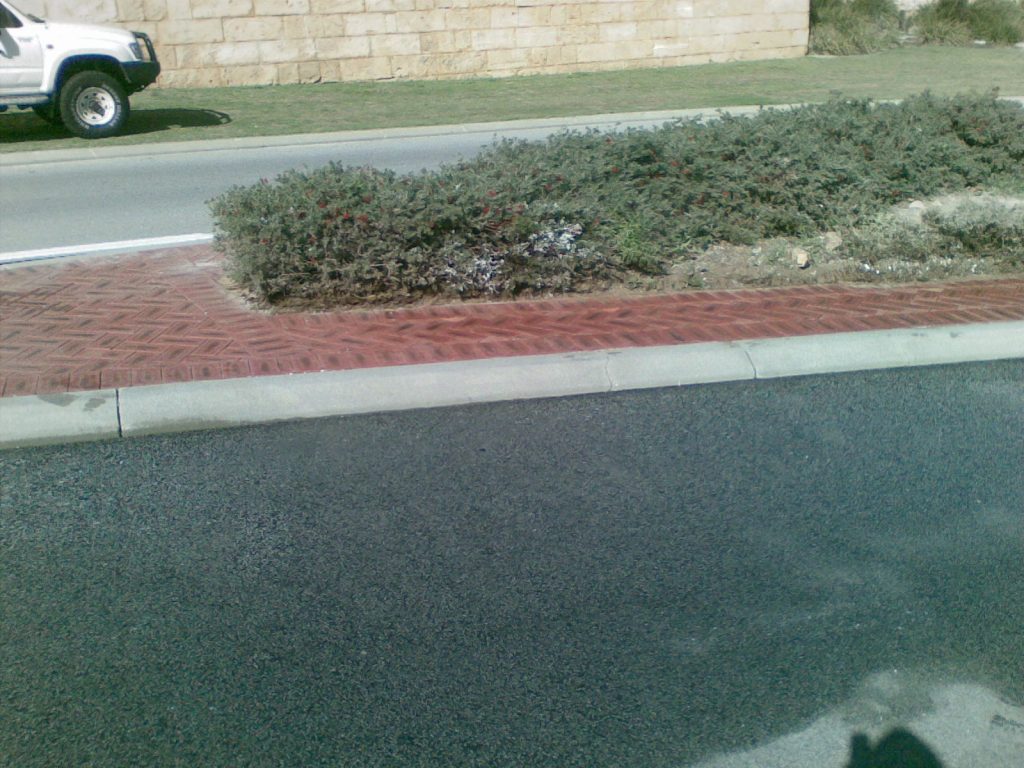 AFTER
June 20th, 2017
FCT Surface Cleaning has been cleaning public, commercial and private car parks for the past 25 years.
 We can take care of once-off projects as well as periodical cleaning, scrubbing and pressure cleaning services.
 We clean car parks by attending to lifts, lift landings, lobbies, stair cases, toilets, ramps and the parking bays.
 We can keep your car park looking its best. If we can be of any assistance, please contact the office on (08) 9204 3333 for an obligation free quote.