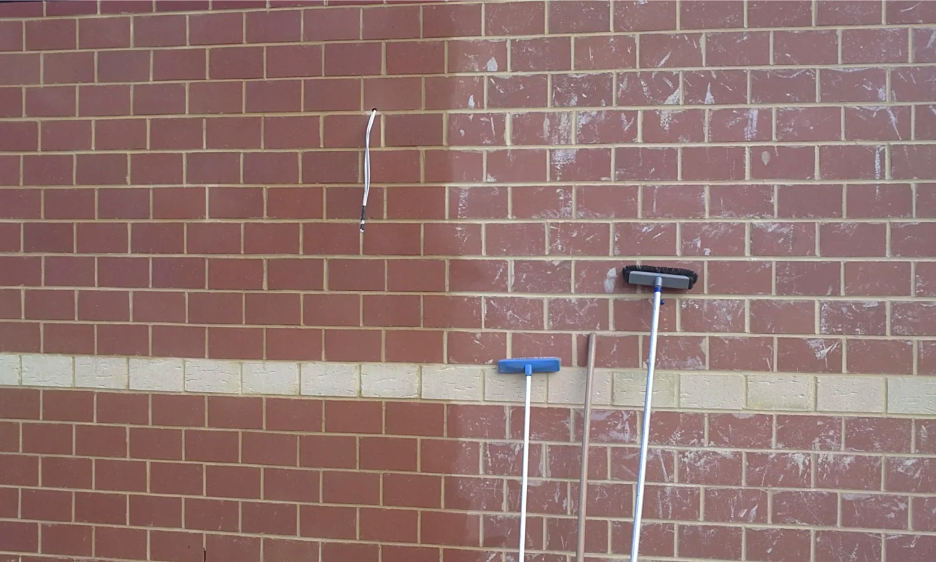 Construction or renovation is a messy business. The bricklaying process, especially, requires heavy amounts of cement. Cement can dry on bricks and leave markings. If these markings in bricks aren't cleaned after the build, the building will look old, dirty, and unfinished. Brick cleaning is the last step in a renovation or new construction because the exterior bricks are the first element people will see. Acid cleaning removes unsightly marks and stains on the brickwork and makes it look like new and clean.
What is the process of commercial brick cleaning?
Commercial bricks require acid solution to soften and high-pressure water to rinse off the mortar residue. If mortar residue dries, it is difficult to remove, which is why bricklayers must clean their bricks as they go.
Commercial brick cleaning is one of the most common services we provide as a high-pressure cleaning specialist:
– Cleaning bricks according to their type and solution
– Applying acid mixture to the brick surface
– Use a scrubbing brush to agitate mortar residue
– High-pressure water sprayed to clean brick surface
There are lots of do-it-yourself brick cleaning blogs on the web, and amateur cleaning acids are available at hardware stores, but professional brick cleaning requires specialist skills, specialized equipment, and a thorough understanding of safety precautions. As mortar is hard to remove, harsh chemicals are required. Cleaning with harsh chemicals can cause serious damage.
It may seem that bricks are indestructible, but they are easily damaged. Cleaning bricks with store-bought acid can ruin them. High-pressure water is also needed. Professional cleaning companies know how to use a high-pressure hose correctly so they don't damage the bricks while cleaning.
We offer professional commercial brick cleaning for buildings – large and small. Do you need the finishing touch to your building? Contact FCT Surface Cleaning for a competitive quote at (08) 9204 3333.