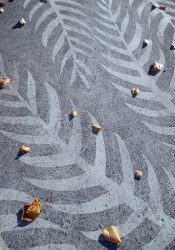 Sand or abrasive blasting is a highly effective cleaning tool for all concrete or tough outdoor surfaces, but did you know that sand blasting can also be used for architectural or artistic purposes? Turn your boring old concrete surface into something special with custom decorative sand blasting services from FCT Cleaning!
At FCT Cleaning, our expert team of sand blasting technicians use our unique Torbo sand blasting machine to create stunning designs in concrete surfaces. Using different coloured sand stones and oxides, a unique design can be created on stone, metal or concrete surfaces that will really transform your backyard or building. Outdoor spaces in your backyard can become a gallery to showcase stunning architectural sand blasting designs. FCT Cleaning have transformed thousands of backyards and buildings all over Perth and greater Western Australia using advanced decorative sand blasting, and we can't wait to work with you to create something truly unique.
Imagine a beautiful, sweeping leaf design meandering its way up your concrete driveway and creating the illusion of swirling vines on the surface. How ethereal! Or a stylishly rugged and abrasive finish on a concrete rendered wall, creating interest and texture in an otherwise neutral landscape. How about your company or school logo proudly displayed and carved on to the outside of the building? What better way to advertise your business? All of this is possible to achieve with decorative sand blasting from FCT Cleaning.
Each and every one of our sand blasting jobs is a unique project. That's why the team at FCT Cleaning will involve you in every stage of the project, from conception to creation. Unsure what kind of decorative sand blasting will suit your property? We have a multitude of stencils and templates to choose from, and our expert sand blasting team will help you to decide the perfect designs for you.
At FCT Cleaning, we believe that there is definitely no such thing as plain old boring concrete! We are a small family business with cleaning in the name, but we are passionate about creating beautiful, as well as clean, homes and buildings with our expert sand blasting services. Let your stunning outdoor area, which is comprised of beautifully and tastefully textured concrete, become the envy of all of your friends and neighbours today with decorative sand blasting from FCT Cleaning.
Get ready to transform your home, business or office building today and call FCT Cleaning for the best decorative sand blasting services in Perth. Don't settle for inferior results or unfriendly service. Our team are firm believers in the fact that every job and customer is unique, and we take great provide in offering a customer service experience that is second to none. FCT Cleaning Services are also more than happy to come to you, and we will provide an obligation free quote at prices that are sure to impress. Discover the FCT Cleaning difference with the best decorative sand blasting services in Perth today!