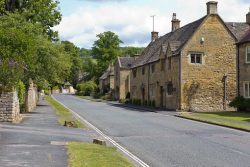 Limestone is a naturally occurring sedimentary rock and contains at least 50% calcium carbonate. When it comes to buildings, it is commonly used as flooring, shower surfaces, countertops, and walls. This rock is formed in shallow seas and is created by the compression of marine invertebrates over many years.
This is quite often the building material of choice because it lasts for a long time and is aesthetically pleasing. It can come in almost any colour depending on what type of elements are combined with the calcium carbonate inside of the rock. It is also an environmentally suitable option and is easy to get a hold of, giving more reason to why so many buildings are made from limestone.
One of the downsides to limestone is that it easily scratches and crumbles as it is relatively soft. As it is a lighter material, it is also more likely to show dirt and grime when it sticks to the surface. With proper care this isn't an issue, however, without methodical cleaning, it may become irreversibly damaged and will need to be replaced.
This is where expert limestone cleaning comes in. Here at FCT Cleaning, we are able to come to your home or place of work and cater to your limestone cleaning needs.
As Perth is home to many limestone buildings, we understand how is important it is to remove dark marks that can arise and protect the surface as much as possible. We are able to easily achieve this by using a high-pressure water cleaner. This blasts water onto the surface and is able to remove all of the muck without damaging the surface itself. We also believe that using water is one of the best methods because no chemicals are involved which can also negatively affect limestone.
We have some amazing before an after shots on our website that show the difference pressure cleaning can make on your limestone pavements, pool areas or walls. This can make a huge impact when it comes time to selling a property or even renting it out. Pressure washing can give your home an instant facelift that is sure to impress family and friends.
We recommend booking in a professional clean every few months, so your home will be looking at its best at all times. For those wanting to make their clean last even longer, they are able to enquire into our sealing services.
This is when we professionally spray a sealant over a surface to protect it from the elements. If you are not sure if your surface needs a clean or a seal, we are also able to inspect your property to let you know what we think the best thing to do for your surfaces is.
Here at FCT, we have years of experience in the surface cleaning industry and pride ourselves on our exceptional and fully mobile surface.
We are the preferred company to use by many businesses and we are confident that you will enjoy our limestone cleaning services too.
We are up-front with our prices and even offer obligation free quotes for your convenience. Get in contact with us by calling (08) 9204 3333, by filling out our online contact form or by emailing us at admin@fctcleaning.com.au.
All enquiries are more than welcome, and we are happy to answer any questions you may have about limestone.