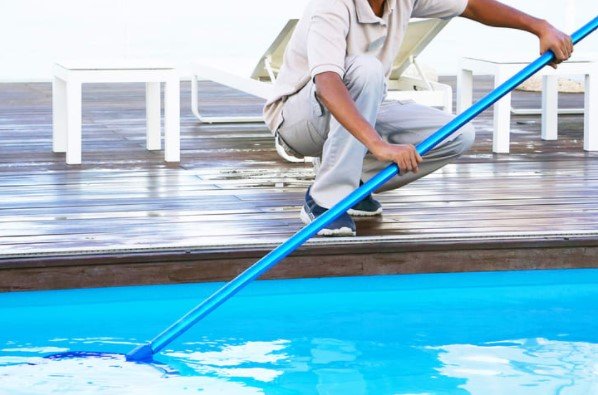 Having a pool is great for many reasons. You can take a dive when the heat gets too much, it can help to keep you and the family fit, and you can even use the pool to host the best parties. But if you want to keep enjoying these privileges, the pool has to be cleaned properly. And it needs to be done on a regular basis. This also means doing more than just skimming the surface or monitoring the chemical balance. Failing to maintain your pool like it needs to be maintained will eventually turn it into a hazard of sorts. Hence the reason for calling an expert pool cleaning services to do it for you. Take a moment to consider these 5 advantages of using professionals instead of doing it yourself.
Experts Provide Options
One of the best things about using professionals is how they know exactly what to look for. When they show up at your property, they already have a good idea of where to start and where to finish. However, how much they ultimately do is completely up to you. You get to choose the areas of the pool you want them to maintain, and you tell them how often they should do it. From once a month to once a week, the decision is yours. Just have the peace of mind your pool can look great all year round.
Regular Maintenance Schedule
When pools and additional equipment are maintained on a regular basis, it is so much easier to keep the water clear and inviting. But as mentioned, this requires more than just working the surface. And professionals are going to cover essentials like:
– Clean the automatic pool cover fabric
– Clean pool walls and tile line
– Make sure the pump is clean as well as the skimmer baskets
– Ensure the chemical balance of the water is perfect
– Vacuum
– Skim the surface and collecting debris
– Check the filter pressure along with the backwash function if necessary
Keep Pool Equipment Maintained And Running
Most people who own pools only have a certain degree of knowledge in terms of proper maintenance. And this is okay because you want a pool to relax, not add to your stress levels. Hence the reason for counting on an expert pool cleaning service. They dig deeper, such as checking the pumps and filters to ensure nothing burns out. Professionals also pick up on small issues that can eventually cause more damage. For example, if they see a small rip, they can repair it without using costly methods.
The Importance Of A Chemical Balance
Something you will notice almost instantly when not properly balanced is the chemical levels. Because a chemical imbalance is going to cause problems like bacteria and algae growth. It goes without saying both are dangerous for your health. When the chemicals are too strong, it can result in skin irritations. Then you have to think about what the imbalance is bound to do to your pool equipment. But this is why professional services are available. With the right knowledge and approach, you can have a perfectly ph-balanced pool.
Free Up Time And Save Money
If professionals come around regularly to maintain the pool and equipment, you will be able to use both for much longer. At the same time, they allow you to spend more quality time doing something you actually enjoy. Because as liberating as it feels to maintain the pool by yourself, it becomes frustrating when things start to break. Or when you don't enjoy swimming anymore due to burning eyes and lips. So, spend your money wisely and open up time in your schedule.
You can have the perfect pool all the time, and it does not require any effort from you. All you have to do is call FCT Surface Cleaning today to discuss a pool cleaning service plan for you! We'll be able to tell you which service you need and tailor them to your situation and needs. Give us a call on (08) 9204 3333!