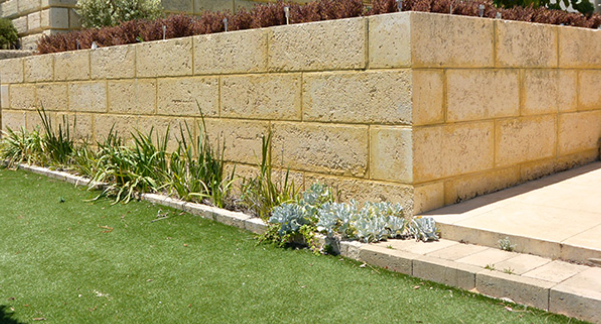 Tips on Cleaning Limestone Retaining Walls
The most important thing to remember when cleaning limestone retaining walls is to make sure you don't cause any damage to them. For example, because of the nature of the stone, limestone walls can be damaged easily if you use acidic cleaning products.
Additionally, high water pressure can result in dislodging parts of the wall. Therefore, you need to carefully plan your cleaning procedures to avoid any errors.
Here's our tips on cleaning Limestone Retaining Walls:
1. Rinse Surface
The easiest way to rinse your limestone retaining walls is to use a hose. If you need more pressure, you can attach a nozzle to the hose. Alternatively, you can also use a pressure washer to wipe down your retaining walls but be sure to set in on a low pressure only to avoid any damage to your limestone walls. Limestone is not damaged by water and will get as much dirt, grime, mold and dust removed from it as possible with water. Apply a limestone-friendly cleaner to your wall and leave it to dry. A neutral cleaner is necessary because even the slightest hint of acid can etch limestone.
2. Wipe Down Surface
Clean the retaining wall and wipe down surface with a damp cloth after you have applied the cleaner solution. You can also dip the cloth in the cleaning solution. If the walls are rough, you can use a soft-bristled brush. Work in small sections when cleaning limestone retaining walls. Rinse the area with clean water when you're finished. If the solution becomes cloudy, change it to ensure that the limestone walls are properly cleaned. If the solution dries on the limestone wall surface, streak marks will appear on it.
3. Dry Surface
As soon as you have finished cleaning the limestone retaining wall surface, wipe it down with a dry cloth to prevent streaks and splash marks from forming. You can leave rough areas to dry naturally. Your dry limestone walls should look just as good as new now.
Do not use any acidic solutions against limestone and always make it sure you are wearing proper protective clothing and gloves when cleaning the retaining walls.
While you may be knowledgeable about the best way to clean limestone retaining walls, sometimes it makes more sense to call professionals if you lack the time or if your walls are unbearably dirty for you to handle yourself.
For professional limestone cleaning services, contact FCT Surface Cleaning for a competitive quote at (08) 9204 3333.