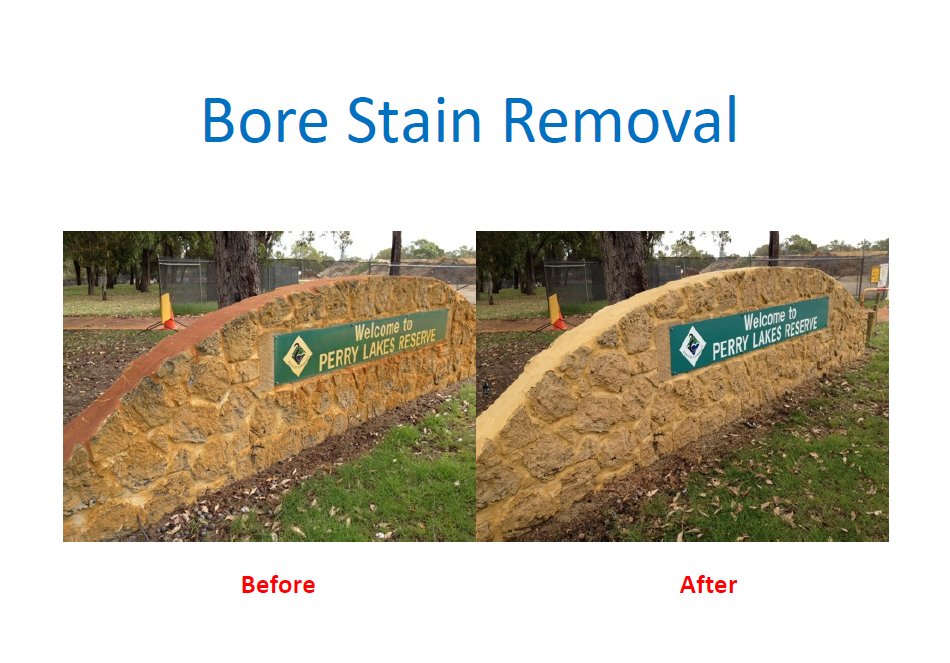 Bore Stain Removal Perth
What are Bore Stains and How do they Occur? 
Bore water stains are a build-up of rust found in areas where there is a bore pump in use. Over time, due to the amount of iron oxide (rust) contained in the water, it leaves a brown mark on surfaces that will grow darker as the use of bore water continues. This is when bore stain removal becomes necessary.
Because of the iron oxide in Western Australia's groundwater, we are more prone to bore stains on our property. Bore stains come to the surface when we use groundwater to water our plants via irrigation. Once the water soaks into the ground or evaporates, what's left is the iron residue that stains surfaces. Unfortunately, this does not make your surfaces look nice and clean.
How Do I Remove Bore Stains?
DIY bore stain removal may end up doing more harm than good. Often trying to remove a bore stain yourself will not remove the stain at all. If the right chemicals or tools are not used, it can result in polluting your irrigation system or damaging the surface you are trying to clean. We suggest hiring a professional as soon as you notice a bore stain to conduct a bore stain removal.
At FCT we use non-toxic chemicals and a low pressure sandblasting unit to ensure we do not do any damage to the original surface. Combining the application of solution with sandblasting will remove finer parts of iron that are stuck under surfaces. We use Eco Live Clean products which are made from bio-degradable products and are non-toxic, non-petroleum, non-alkaline, non-acid, non-VOC and fragrant free.
Preventative Measures after Bore Stain Removal 
If you live in an area that is more prone to bore stains (such as Mt Lawley or Applecross) it could be worthwhile to stop using free bore water as part of your irrigation system. This does come with a cost and has restrictions on reticulation times.
Another option is to take advantage of the coatings and sealants that FCT provide. After cleaning different surfaces we are able to apply a sealant to seal the surface and ensure its longevity. This keeps your surface intact and reduces the rate in which bore water will affect your property. Our team use rollers and spray bottles, depending on the surface, to apply coatings.
Why FCT?
FCT are committed to being the most effective and efficient in the business! Our fully mobile team can travel anywhere in the Perth metropolitan and surrounding areas and are able to assist you at all times.
Call (08) 9204 3333 or email admin@fctcleaning.com if you have any queries or for a FREE quote!