Commercial Pressure Cleaning Perth
Building Wash Downs Perth
Is your building looking tired and old? FCT will give it a wash down! FCT's commercial pressure cleaning machinery was specifically designed and built to carefully restore some of the greatest and oldest buildings in Europe. Using fine silica sands and very low pressure cold or hot water FCT can wash down any building safely and without any harm to it's surfaces.
FCT will make your building look young, modern and fresh again and give it a new lease on life! We will remove years worth of built up carbon, pollution, bore water stains and grime. We'll even clean your car parks and walkways as well! Looking to renovate? We'll safely remove the paint from your home so it's ready to be re-rendered.
Our machines have cleaned the Arche de Triomphe, Big Ben and many other famous buildings.
Make you building feel famous, contact us today to find out more about our commercial pressure cleaning services that we provide right here in Perth.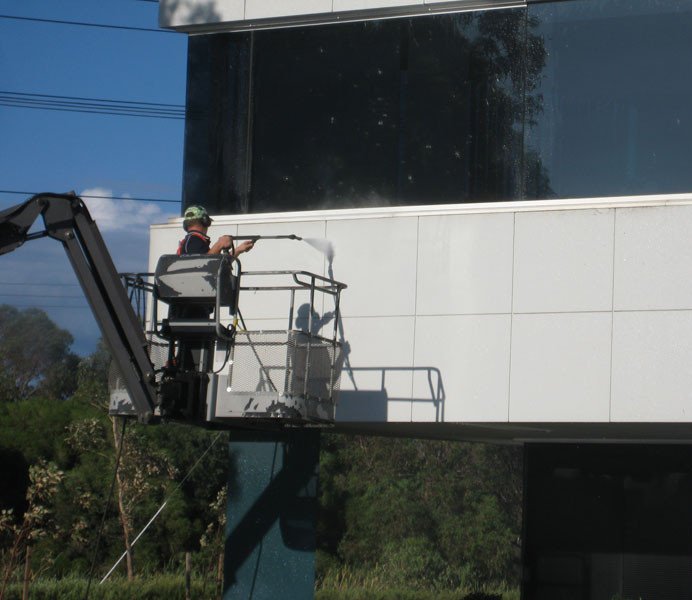 Why is commercial pressure cleaning important?
Commercial pressure cleaning in Perth is vital to having the best-looking building on the block. Having a great looking façade is always important, but can really give people the edge they need when selling, auctioning or leasing a property. As a business owner, this can save a lot of time and money by not only having the property look appealing to customers or potential buyers but also by not having to complete the task yourself. This way more time can be spent on the important parts of a business such as focusing on customers and marketing.
Another great benefit of commercial pressure cleaning in Perth is that the integrity of a building or area can be preserved in the long run. Mould, moss, and dirt can be easily removed and prevented from getting into further areas of a property. When substances are removed quickly stains can be prevented. High-pressure cleaning is a great way to ensure that your commercial building is looking the best it can and is kept clean in a cost-effective way.
Pressure washing is the most effective way to clean outdoor surfaces and can give your building the curb appeal it deserves. With the changing seasons, it is important to have any dirt, leaves or sand blown away from exteriors in order to prevent them from slowly reaching the inside of a building.
Furthermore, extra sunlight can be let into a building by removing the build-up of grime, dust, and cobwebs on windows. This will ensure a commercial property is looking above average and becomes a place where people really want to be.
Here at FCT we know how important it is to have concrete, blue-stone, tile, and grout looking impeccable. We can remove dirt from exterior walls, mould from driveways, dirt from deckings and much more. We do all of this effectively but without causing any damage to the surface. This way your commercial property can be revamped in a simple and cost-effective way.
Make your building feel famous and fabulous by contacting us today to find out more about our commercial pressure cleaning services that we provide right here in Perth. Have a chat to one of our friendly staff members by reaching us on (08) 9204 3333 or admin@fctcleaning.com.au.