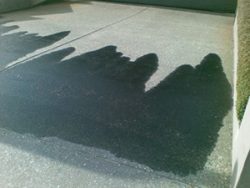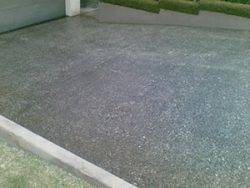 You no longer have to wonder about how to best get your driveway to look as bright and presentable as when you first moved into your property. Our dedicated team here at FCT know how to best clean your driveway so your home or place of business is looking trim, taut and terrific.
We use state-of-the-art equipment to quickly and professionally get the job done, all while leaving you with extra time in your day for the important things.
Our years of experience have helped us uncover the best methods to use when it comes to driveways and outdoor surfaces. We find that high pressure cleaning is the best method to clear any debris, paint, dirt or mould from a surface.
High pressure cleaners use powerful jets to spray surfaces with water and are extremely effective in cleaning driveways, patios, outdoor furniture, BBQ areas and more. People also love high pressure cleaning as it is a non-chemical way to clear a property. Because of the electric polarity in water molecules, dirt and grime stick to them and are then washed away.
Calling one of our friendly team members here at FCT is a great option when you are looking to remove a stain from a driveway or to give it a simple maintenance clean.
Why choose FCT?
Our team have over 20 years of experience and are the preferred company for many businesses in Perth and surrounds. We have extremely competitive prices and offer obligation free quotes.
We have many glowing testimonials from previous clients and are positive that we can offer the best service in the business. As a mobile operated company, we can come to you which will save you time, energy and money instead of hiring equipment yourself. We have the best safety practices and are completely insured so accidents and injuries are less likely to occur throughout the clean.
We have also taken it upon ourselves to care for the environment. We are extremely conscious of any products that we use, and opt for a natural product that is allergy and pet friendly. We understand how important cleaning is, but also how stressful it can be, so we are here to take the worry out of the process by quickly and efficiently cleaning your driveway.
If you are selling your property in Perth or wish to rent it out, it is important to have the home looking as best as it possibly can. A quick driveway clean is the perfect way to give a house a face-lift and make it more likely to attract serious buyers.
Furthermore, having a regular clean is a great way to decrease the chances of having to reseal a driveway. As we drive our cars and other vehicles on our driveways, there is so much dirt and fumes that get onto the surface.
This eventually will erode the seal, but this can be avoided with a maintenance clean. It is also a great way to reduce the amount of moss, algae or mould that can grow on a surface over time.
To find out more about having your driveway, carpark or outdoor area cleaned, please give one of our expert team members a call on, (08) 9204 3333. You can also reach us by emailing us at, admin@fctcleaning.com.au.
We are more than happy to help with any query and offer an obligation free quote.